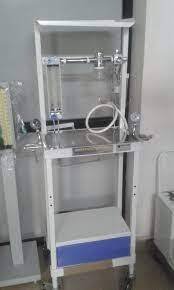 Anesthesia Trolley
It is a medical device used to generate and mix a fresh gas flow of medical gases and inhalational anaesthetic agents for the purpose of inducing and maintaining anaesthesia.
Advanced Features:
Available with Nitrolock facility
Rear cylinder tray platform for 2 Nos. 10 litr. water capacity cylinders
Provision to attach circle absorber
A and B type cylinder key,face mask, bains circuit and mox regulator with tubing supplied free of cost with the apparatus
Ampule bins for injection and medicines
Biomedix A scan
Echorule pro is a portable eye scanner- Ascan Biometer. The design process was preceded by a thorough user study, so as to understand the usability aspects of the device. The styling of the device brings a fresh perspective into the domain of medical products, without compromising on the seriousness of its purpose. An important achievement of this design its compactness. Studio ABD worked closely with the technical team at Biomedix and the manufacturer to optimize the configuration and fitment of functional components. Serviceability being a key concern, our engineering team employed ingenious techniques to address the manufacturing challenges. We also contributed to the graphical user interface (GUI) in a significant way. This was a challenging task, considering the small size of touch display and bulk of information to be communicated to the user. The screen flow was optimized for clarity and efficiency. Key screens were designed keeping in mind readability, hierarchy of information, ease of touch interaction and professional appearance.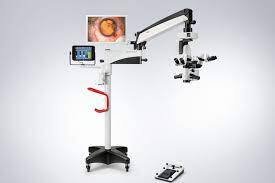 Leica M82
If you primarily perform cataract surgeries but would like a reliable microscope for other anterior as well as posterior segment surgeries, the M822 ophthalmic surgical microscope from Leica Microsystems is a perfect fit.
Your benefits
Benefit from optimal visualization from cataract to glaucoma surgery, based on high-quality Leica optics and the dual direct illumination system with a combination of LED and Halogen for astounding images
Enjoy ergonomic support, working in an upright, relaxed posture and controlling the microscope intuitively via handle or footswitch
Adapt the M822 easily to anterior or poster surgeries to with a range of available accessories
Experience uninterrupted workflows, progressing through your procedure smoothly with preprogrammed settings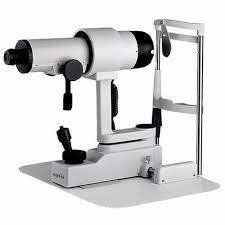 Manual Keratometer
The S4OPTIK Javal Ophthalmometer has high performances in reading and measuring the curvature radius of the cornea, its refractive power and corneal astigmatism. The instrument has a high examination quality and wide useful surface of the cornea for measurement (3,4 mm) and it has a back-lighted reading scale graduated in TABO system. Easy to use Accurate Modern design Durableaed settings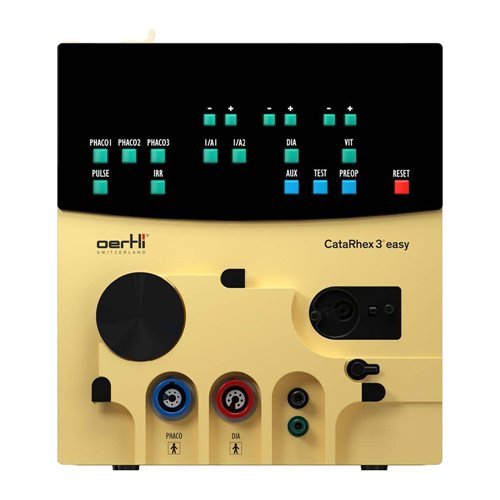 Oertli Catarhex Phaco Machine
Ultraportable Device for Cataract Surgery
CataRhex 3®easy employs components and design concepts proven under harsh conditions in hundred thousands of surgeries every year in India. CataRhex 3®easy masters 2.2 mm and 1.6 mm incision sizes too, thus making you ready for the implantation of future premium IOLs. with CataRhex 3®easy you can reduce the incision to 2.8 mm – 3.2 mm, a size which is perfectly astigmatism neutral when done scleral.
Product Features
Precise Flow Control with Peristaltic pump
Tubing system with integrated closed sensor
Large Control panel
Luminous display and keys
Linear multifunctional pedal
Pneumatically driven Push Pull cutter -20G/ 23G
Linear cuts up to 2400 cpm, Single Cut
DirectAccess® for Simple Operation
Endo- and macro diathermy
Pulse oximeter
Fingerprint Pulse oximeter (pulse ox) is a noninvasive device that estimates the amount of oxygen in your blood. It does so by sending infrared light into capillaries in your finger, toe, or earlobe. Then it measures how much light is reflected off the gases. A reading indicates what percentage of your blood is saturated, known as the SpO2 level. Oximeter, oximeterfingertip, Pulseoximeter, oximeterfingertipwithbloodpressure, oximeterforkids
Sonic cleaner
GT SONIC T-series units with digital control timer and heater features.power adjustable make it suitable for general cleaning applications. The T series with very competitive price, and available for OEM customers. T series comprises 7 machine sizes from 2 liters to 27 liters.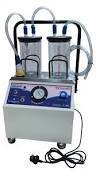 Suction machine
A suction machine, also known as an aspirator, is a type of medical device that is primarily used for removing obstructions — like mucus, saliva, blood, or secretions — from a person's airway. When an individual is unable to clear secretions due to a lack of consciousness or an ongoing medical procedure, suction machines help them breathe by maintaining a clear airway.
In practice, care professionals use suction machines as an integral part of a treatment plan when a patient's airway is partially or completely obstructed. Some common uses include:
Removing respiratory secretions when the patient is unable to
Assisting a patient that is vomiting while seizing or unconscious
Clearing blood from the airway
Removing a foreign substance from a patient's windpipe and/or lungs (pulmonary aspiration)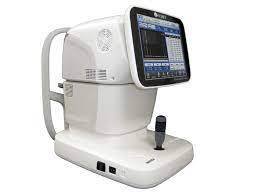 Tomey optical biometer
OA-2000 is the perfect instrument for measuring axial length, the corneal curvature radius, corneal topography, and more in a single shot. High penetration capability is available using the Fourier domain method, which enables high speed scans.
THE OA-2000 IS A COMPLETE SYSTEM FOR MODERN IOL CALCULATION. IT COMBINES A HIGH-SPEED BIOMETRY MEASUREMENT WITH A DEEP PENETRATION FOR VERY DENSE CATARACTS AND TOPOGRAPHY.
Featers
Axial length
ACD and LENS thickness
Topography keratometer
All parameters – with only one measurement
Pachymetry
White to White
Pupil diameter
IOL Ray Tracing Calculation
Yag laser Iridotomy
Laser peripheral iridotomy (also described as 'laser iridotomy' or simply termed 'iridotomy') is a medical procedure which uses a laser device to create a hole in the iris, thereby allowing aqueous humor to traverse directly from the posterior to the anterior chamber and, consequently, relieve a pupillary block.[1][2][3] It is commonly used to treat a wide range of clinical conditions, encompassing primary angle‐closure glaucoma, primary angle closure (narrow angles and no signs of glaucomatous optic neuropathy), patients who are primary angle‐closure suspects (patients with reversible obstruction) and even eyes with secondary causes of iridocorneal angle-closure.